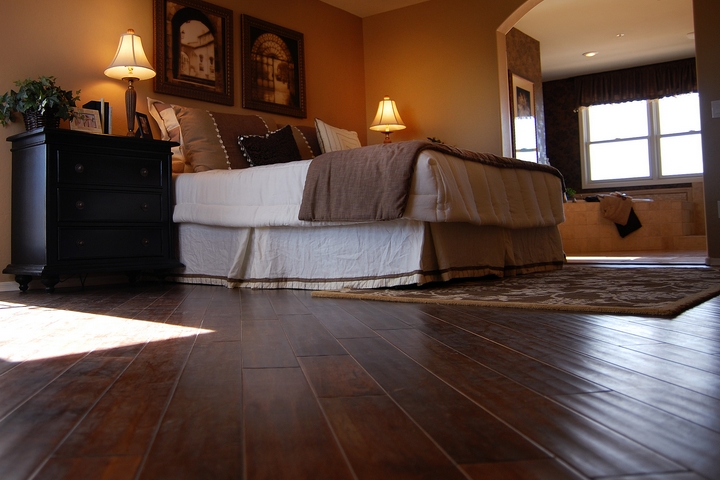 Hardwood floor is a great idea for a bedroom, especially if you are ready to invest in a beautiful upgrade that will add value to your home, and will never go out of style. Indeed, hardwood flooring has a timeless appeal which, when added to its durability, means it could be the last type of floor that will ever get installed in your bedroom.
Hardwood flooring is sure to be a good investment, but it's always helpful to get some advice and inspiration before choosing which species of wood you want to purchase, and how it will fit with your bedroom's decor.
These 7 hardwood floor bedroom ideas will help you get started:
Idea #1: Consider where hardwood species come from before making a choice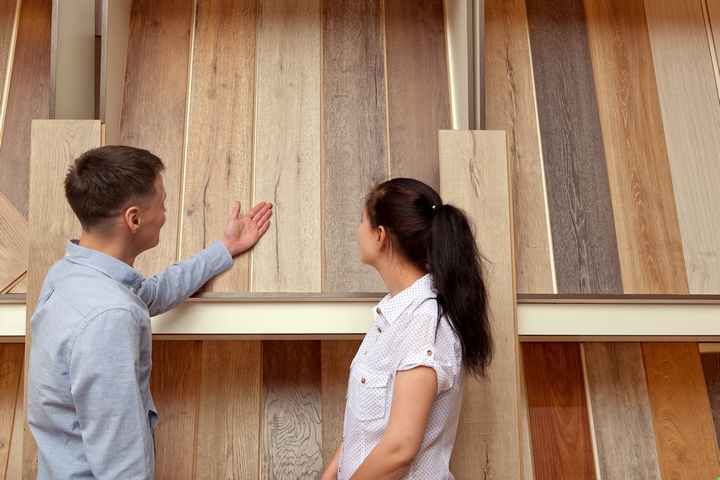 Many wood species are used to make hardwood floors. Some are more expensive than others, but if you have an unlimited budget, you could simply look at different colours and grains, and pick the one you prefer.
But you should also consider where the different hardwood species available come from before making your choice. Wood planks that did not need to travel around the world to get to you represent a more eco-friendly option, but this is not the only reason why a local wood could be better for your bedroom floor.
A type of hardwood that is used to the climate of your country could be less likely to react to temperature changes than a more exotic wood. Don't hesitate to ask an expert for some advice.
Idea #2: Refinish a dated hardwood floor to update its look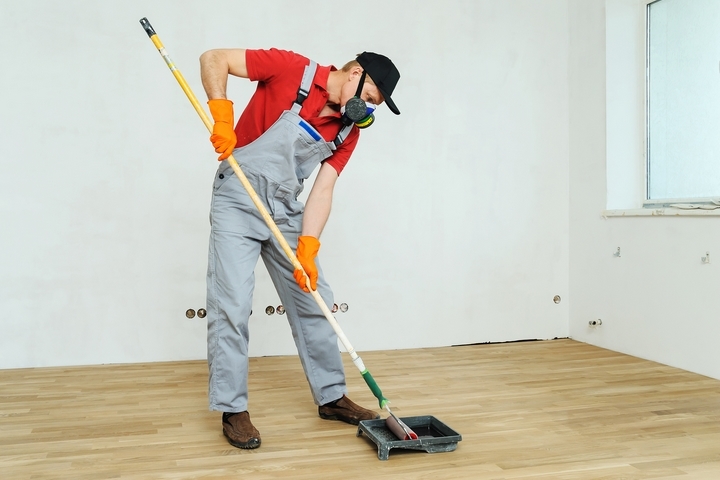 Refinishing is one of the most popular hardwood floor bedroom ideas for homes. Even though hardwood floor is durable, it can still get scratched or damaged over time. After a few years, you could simply get your floor refinished to make sure it keeps looking its best.
It's also possible to stain your hardwood floor a different colour, or to apply a different finish to it. This means that if you eventually get tired of your hardwood floor, you can simply update its look to fall in love with it again.
Idea #3: Hardwood with dramatic wood grains is perfect for a rustic decor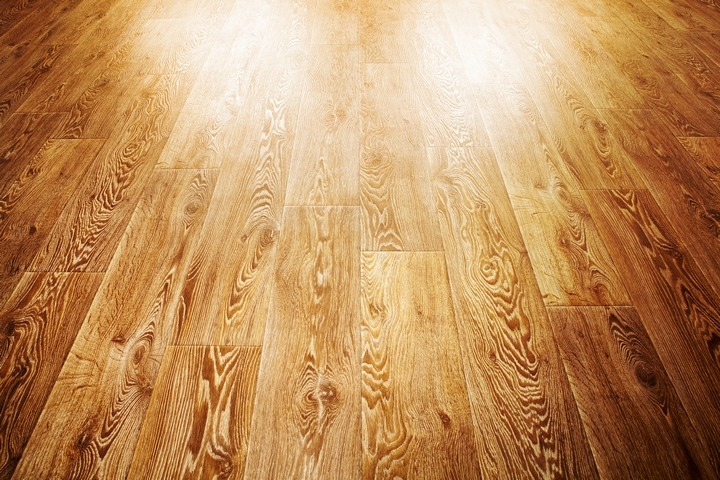 Hardwood floors can complement different decors. Whether you like a sleek contemporary style, a minimalist scandinavian style, or a charming rustic style, you are sure to find the ideal type of hardwood.
Keep in mind the colour, as well as the grain of the wood can help set the mood and match with your decor. For example, hardwoods that show very dramatic grains, such as knotty pine, walnut or hickory, can be perfect for a rustic decor.
Idea #4: Try to coordinate your hardwood floor with your wood furniture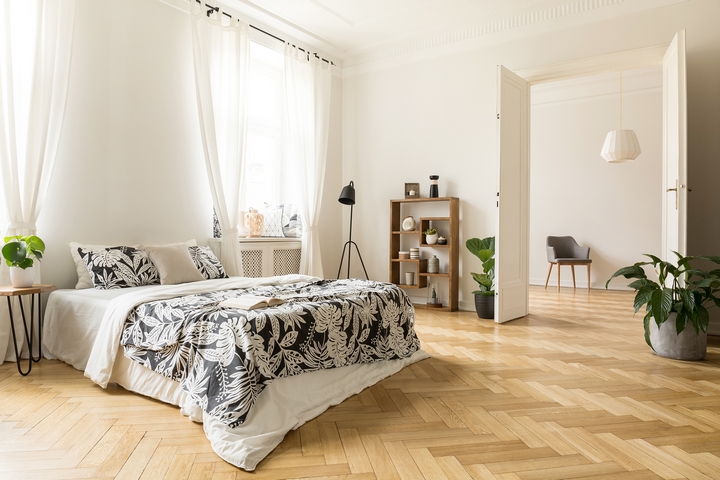 If you like the current decor of your bedroom, you can look for a type of wood that works well with the colour of your walls or your accessories. Above all, you should try to coordinate your hardwood floor with any other natural wood present in the room.
If you have wood furniture, your hardwood floor should ideally show the same colour. It could also be of a slightly different shade, or feature a contrasting colour that looks flattering.
Idea #5: Dark hardwood flooring can be balanced with white or light colours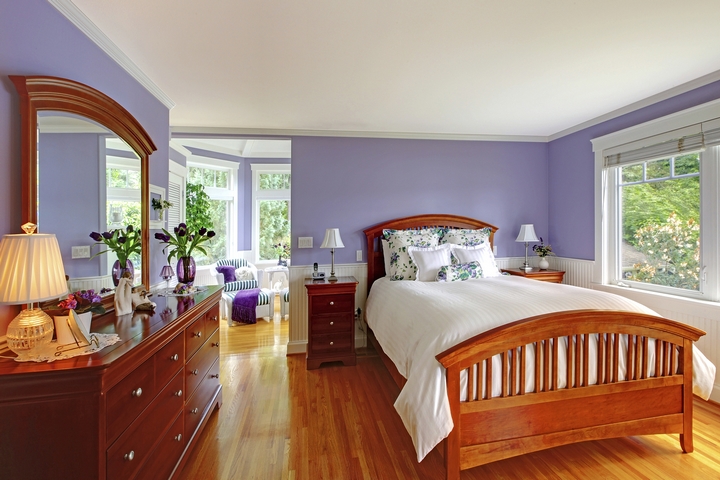 Dark hardwood floor can look amazing in a bedroom, especially if you want to achieve an industrial, contemporary, or dramatic style. However, a very dark floor could make your bedroom seem darker and smaller than you want it to be.
To create some balance, consider painting your walls white, or using light and soft colours to decorate the room.
Idea #6: Consider creating a pattern with your hardwood planks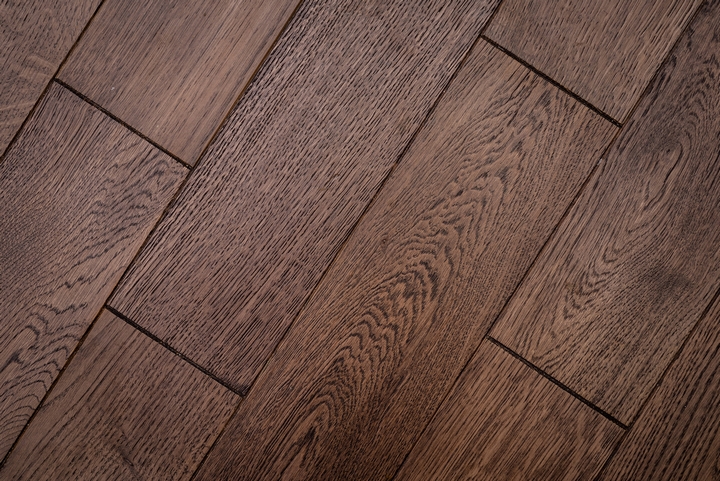 Who said you have to install the planks of your hardwood floor in straight lines, or that you can't create interesting patterns with them? If you are feeling creative, you could use the planks to form a herringbone pattern, or build squares with short sections of planks.
If you have never installed hardwood floor yourself, you should get experts to install it for you, but don't hesitate to discuss your pattern ideas with them.
Idea #7: Hardwood is also ideal for a child's bedroom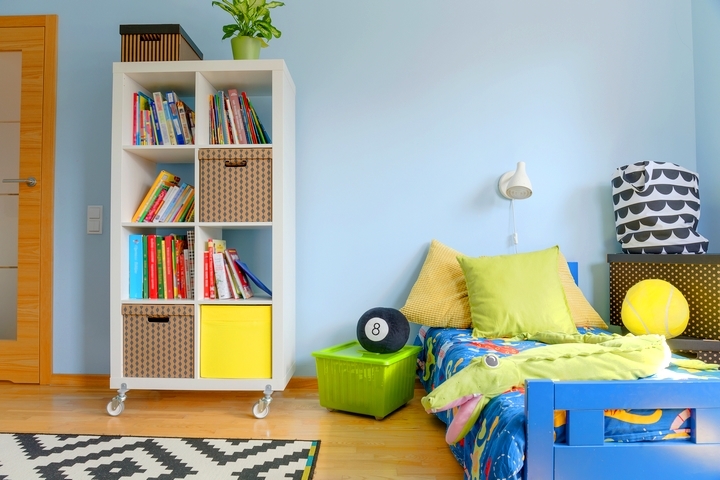 Are you wondering if you should install hardwood floors in the bedroom of each member of your family, or only in the masters bedroom?
Of course, it all depends on your budget, but keep in mind that hardwood floor can be a good choice for a child's bedroom. This type of flooring is durable, and perfectly able to withstand high foot traffic, spills, and scratches. Plus, when your child is all grown up, there will be no need to replace the flooring, although refinishing it could be necessary.
That being said, it could be a good idea to cover parts of the floor with area rugs, especially if your child is very young. Hardwood is harder than some other types of flooring, and can get cold in the winter.