Well, today begins a new series & link up!I know that most of you probably had getting healthy, working out, taking care of yourself better & many more "health/wellness" issues on your – MUST DO – for 2012; so this is a way we can all keep each other accountable! Yeah!
Each week a different topic will be covered – anywhere from exercise tips, healthy eating, mental health issues, and overall wellness of our bodies & minds. I have lots of wonderful women lined up to help out – I'm VERY excited to learn from them!
Today begins my challenge for you & myself. Print off the Health & Wellness Journal and get to crackin'! I have tried to cover all the bases in which this series entails. Just do your best. If you don't get all your water in for the day just try to do more the next day. If you can't do all of the workouts – do what you can because at least you did more than the day before!
In order for you to be successful in this, it needs to be a LIFE change, not a RIGHT NOW change. I tend to always fall into the RIGHT NOW mindset, and well, you can see where it's landed me. Not only does it need to be a LIFE change, you need to be positive about it. If you are negative about it, you won't stick to it. It's just the way we're programed.
Here are some tips:
Water Drinking: Fill up a large jug of water with your daily amount (mine is about 60 oz) – Pick out your favorite glass to drink from & fill it up. After you take a drink, pour it back up again. This little method works for me because I see that big jug getting less & less. I'll even chug a glass so I can fill it back up again.
Healthy Eating: When you wake up in the morning immediately drink a glass of water. You get to check off a box and then you aren't as hungry! For breakfast I either have a 2-egg omelet w/1 yolk, low-fat cheese, and diced peppers & onions w/seasoning OR I'll have low-fat greek yogurt sprinkled with low-fat granola cereal. It keeps me full until well past lunchtime. For lunch I either cut up some veggies (carrots, peppers, broccoli) & then maybe roll up some lean-meat lunch meat on a slice of bread w/some mayo/mustard OR I have a protein shake with added fruit. Dinners I try to have half of my page veggies, 1/4 meat, 1/4 carbs. Now, remember, getting healthy requires your #1 priority to be what you eat.
I understand that some people just can't go all crazy healthy – shoot – I can't go without my chocolate, homemade bread smeared with butter or home made pizza. So on days where I know I'll be eating a not-so-healthy dinner, I am VERY careful about what I eat earlier in the day and maybe throw in a little extra exercise. You have to do what is going to work for YOU.
Working out: Do little bits throughout the day. I wake up and do some of the sit ups and push ups. Then when I'm in the kitchen I'll throw in some squats/lunges and some cardio. I make sure to keep track of what I do so that I know I'm fitting it in. If my legs are about to fall off, I'll just do what I can and call it a day. No need to stress out about it.
I hope that this series encourages you and helps keep you on track! I know it's going to help me!
I have a link-up below if you'd like to join in each Thursday.
You don't have to write an entire post about your progress,
if you want you can just do a little snippet for us to see how you're doing.
It's all about accountability people!
If you do decide to participate, please grab the button & add it to your post so others can join in too!
I have provided a Health & Wellness Journal for each of you to download.
Just click here or on the images below.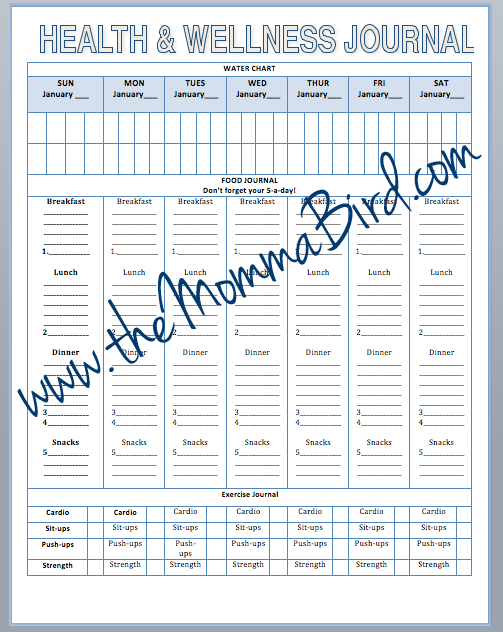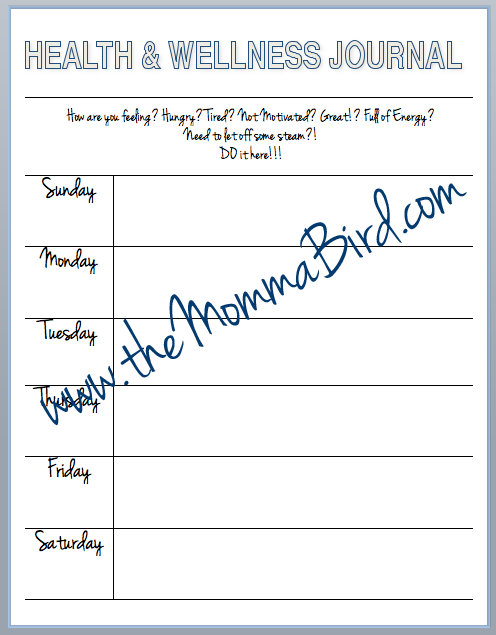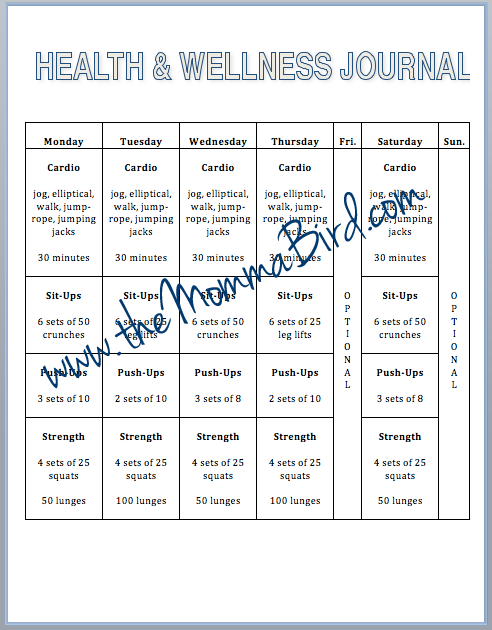 Thanks so much everyone! Please link up below – you have all week to link.
Share it with your friends who have the same goals – the more the merrier!